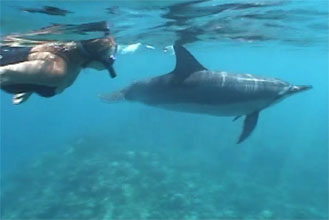 Come to the beautiful turquoise coastal waters of the Big Island of Hawaii and swim and play with the resident Spinner dolphins that often congregate in pods numbering hundreds of dolphins. With April as your guide, you will experience a special communion with the dolphins and learn about the dolphins from the unique perspective she has gained by swimming with them and communicating with them for over 15 years.

On some special occasions we may also swim with spotted dolphins, bottlenose dolphins and manta rays over beautiful coral reefs of the Kona Coastline.

From aboard the boat "Sunlight on Water" with our wonderful captain China Mike, we will experience a special Hawaiian ceremony and then travel along the coast of our island in search of our dolphin friends. Once we find them, we will put on our snorkel gear and quietly slip into the beautiful calm water and let the dolphins come to us to play and share their special magic.

Dolphin boat trips last approximately 4 hours, starting at 8am and returning to the harbor at 12pm. Our dolphin trips include all snorkel gear, snacks, plus snorkeling and dolphin etiquette instructions to insure respectful and fun interactions with the dolphins. Our swim assistants will be there to make sure you have a safe and enjoyable experience in the water and our trips are for beginners as well as for advanced snorkelers.

Note: Since the dolphins are wild and free, we cannot guarantee dolphins encounters, however, we are fortunate in Hawaii to meet with the dolphins at least 95% of the time if not more!

Cost: $150 per person
To schedule a dolphin swim with April Rochelle as your guide, Click Here to submit a request for information or call 626-437-7236.
Click here to pay for your Individual Wild Dolphin Swim.
A Sample a Wild Dolphin Swim:

(Dolphin Video © Matisha)
China Mike's Boat "Sunlight on Water"