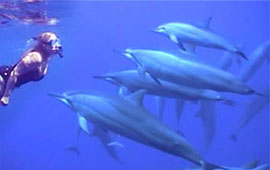 Based on the number of people in your group, we have different options for creating the perfect wild dolphin swim trip for you. Our larger boat has room for twenty passengers and we can charter the entire boat for your group, or we can reserve fewer seats and share the boat with other passengers. Price per person is $140.
If you have a small group and would like a more intimate private experience, we have a smaller boat with room for up to 5 passengers that we can charter especially for you. Due to the private nature of the smaller boat, price per person is $200 with a minimum of 3 people.
Whichever boat you choose, you will receive the same personal care and attention as well as having exciting interactions with the wild dolphins.
Dolphin boat trips last approximately 4 hours, starting at 8am and returning to the harbor at 12pm. Our dolphin trips include delicious muffins,local fruit, lots of drinks and snacks as well as all snorkel gear. We will provide information on snorkeling and dolphin ettiquete to insure respectful and fun interactions with the dolphins.  Our swim assistants will be there to make sure you have a safe and enjoyable experience in the water.
You do not have to be an advanced snorkeler to enjoy a wild dolphin swim. We provide snorkeling instruction as well as flotation gear and assistance in the water. Our trips are safe for beginners as well as for advanced snorkelers and we can accommodate both adults and children. 
Note: Since the dolphins are wild and free, we cannot guarantee dolphins encounters, however, we are fortunate in Hawaii to meet with the dolphins at least 95% of the time if not more!
For further information on booking a wild dolphin swim for your group, please Click Here to send a request for information, or call 626-427-7236.
China Mike's Boat "Sunlight on Water"