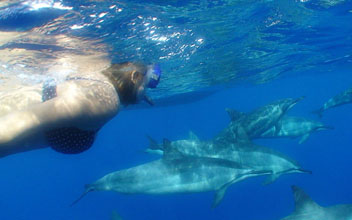 April Rochelle, MA, MBA expresses her passion as an interspecies communicator, animal behaviorist, teacher and metaphysical researcher. Over the last 18 years of traveling the world and swimming with wild dolphins, whales, sharks and manta rays, she has developed a unique understanding of the healing powers of the ocean and the transformative value of interacting and communicating with these incredible sentient beings.
April's primary focus is to help others reconnect with their natural state of joyfulness and sense of freedom as well as developing and expanding their abilities for interspecies communication. She leads dolphin and whale workshops all over the world, helping to bring humans and cetaceans together for a mutually exciting and beneficial experience.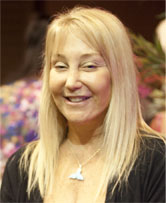 April has also apprenticed with the channeled being known as "Bashar" for the past 19 years and is a conscious channel for higher level energy. She offers intuitive assistance in applying metaphysical principles to your own unique life circumstances to help you expand your creative self-expression and create the life that you desire.
April's professional history includes extensive experience as a university professor, counseling psychologist and business consultant. April is currently the CEO of Bashar Communications, an international organization devoted to personal and planetary transformation. She is in a unique position to help you connect with the dolphins and whales and help you integrate the experience for your own personal transformation.